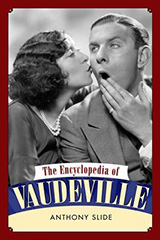 The Encyclopedia of Vaudeville
(University Press of Mississippi, 2012)
American Library Association Outstanding Reference Source of the Year
Choice Outstanding Academy Title
Library Journal Reference Book of the Year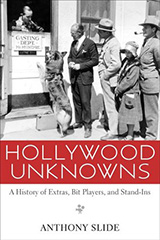 Hollywood Unknowns: A History of Extras, Bit Players and Stand-Ins
(University Press of Mississippi, 2012)
"richly entertaining.... lucidly outlines the major shifts in the business.... he has unearthed life stories grander than any Tinseltown melodrama."
– Film Comment, September-October 2012
"filled with tidbits about what it took to survive as a member of the more-or-less unappreciated army of the faceless... Slide's book covers every category of movie-lot also-ran and down-and-outer.... You can't often say a new book is the first of its kind. Yet Slide, the author of more than 70 (!) books on the movies, has given the faceless crowd its first real monument, while proving that the rich field of Hollywood history remains far from exhausted, even now."
– LA Weekly, December 7, 2012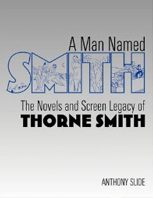 A Man Named Smith: The Novels and Screen Legacy of Thorne Smith
(Bear Manor Media, 2010)
"Thorne Smith is a unique figure in American literature, one who thrived during prohibition, creating comic novels that ridiculed the morality of the times and involved extensive drinking, nudity, frivolity, and general debauchery. A Man Named Smith: The Novels and Screen Legacy of Thorne Smith is the first book-length study of Thorne Smith's work. It provides background information on his life and early death, discusses all of his novels in detail and also provides extensive new documentation on their screen adaptations, including Topper, The Night Life of the Gods and Turnabout. Also discussed are Thorne Smith's brief time in Hollywood at MGM in 1933 and the influence that his books have had on later films and television productions. As an added bonus, reprinted here in its entirety is the 1934 promotional monograph, Thorne Smith: His Life and Times with a Note on His Book & A Complete Bibliography."
– publicity release.
(This volume may be ordered directly from the publisher at bearmanormedia.com)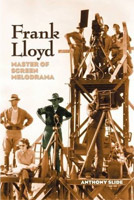 Frank Lloyd: Master of Screen Melodrama
(Bear Manor Media, 2009)
"Frank Lloyd: Master of Screen Melodrama is the first book-length study of one of the most prominent of studio directors from Hollywood's 'golden age,' whose career spanned the years from 1913 through 1955. Among the director's greatest works are Oliver Twist with Jackie Coogan, The Sea Hawk with Milton Sills, The Divine Lady with Corinne Griffith, and two Academy Award winners for Best Picture, Cavalcade and Mutiny on the Bounty. They are all discussed in detail here, along with other prominent Frank Lloyd productions, including East Lynne, Berkeley Square, Wells Fargo, and The Howards of Virginia. Frank Lloyd himself won two Academy Awards, and yet he has failed up to now to receive the attention he deserves together with recognition of his masterly creation of screen melodrama. With his latest book, which includes a complete filmography and a sampling of writings by Frank Lloyd, award-winning historian Anthony Slide sets the record straight and honors one of Hollywood's best."
– publicity release.
(This volume may be ordered directly from the publisher at bearmanormedia.com)
"The great and prolific film historian Anthony Slide's Frank Lloyd: Master of Screen Melodrama pays long overdue tribute to the director of Cavalcade (1933) and Mutiny on the Bounty (1935), both Oscar Best Picture winners, one of the top filmmakers of his day, and all but forgotten today."
– NATIONAL BOARD OF REVIEW (April 2010).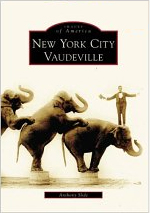 NEW YORK CITY VAUDEVILLE
(Arcadia Publishing, 2006)
"NEW YORK CITY VAUDEVILLE provides a unique pictorial record of America's preeminent entertainment medium in the late 1800s through the early 1930s. New York's Palace Theatre served as the flagship for vaudeville, on which stage every vaudevillian aspired to perform. NEW YORK CITY VAUDEVILLE features photographs of some of the greatest names from the Palace Theatre, including Jack Benny, George Burns and Gracie Allen, Anna Held, the Marx Brothers, and Eva Tanguay, as well as legendary African American performers such as Bill Robinson, Ethel Waters, and Bert Williams. Through the photographs and the capsule biographies, the reader is transported back to a time when vaudeville was the people's entertainment, with a new bill of fare each week and an ever-changing number of performers with ever-changing styles of presentation."
– publicity release.
(All of the photographs in this book are from the Anthony Slide collection and may be licensed through http://www.producerslibrary.com.)
"Anthony Slide's compact and handsomely turned-out book....is a pictorial chronicle of the acts — big and small — that played the Palace....n New York City Vaudeville, his photos and captions vividly bring to live an era that is chock-full of some of the most bizarre and enthralling entertainers that ever trod the boards....Vaudeville itself may be dead, but its phantoms hop, skip, and jump with ectoplasmic vivacity in Slide's valentine to a lost art."
– Charles Marowitz, swans.com, March 10, 2008.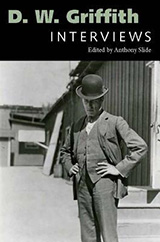 D.W. Griffith: Interviews
(University Press of Mississippi, 2012)
Collected together here are virtually all of the interviews given by D.W. Griffith from the first in 1914 to the last in 1948. The interviews are taken from a variety of sources, including trade papers, newspapers and fan magazines.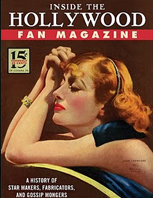 Inside the Hollywood Fan Magazine: A History of Star Makers, Fabricators, and Gossip Mongers
(University Press of Mississippi)
"exhaustively researched, endlessly fascinating and insightful."
- Kevin Thomas, Los Angeles Times, September 10, 2010
"Anthony Slide's Inside the Hollywood Fan Magazine provides the definitive story of this artifact....The book is enhanced by an appendix documenting some 268 American fan magazines and includes detailed publication histories."
- Turner Classic Movies magazine, August 2010
"For anyone who equates 'fan magazines' with supermarket tabloids, this book should come as a revelation. Tony Slide had done a formidable job of research to chart the birth, rise, and fall of Hollywood fan magazines in the twentieth century, this relationship to the industry they covered and the readers they served. It's a colorful, well-told history that's full of surprises."
– Leonard Maltin
"expansive."
– FILM COMMENT (March-April 2010)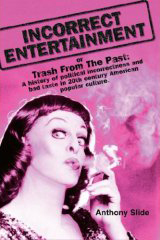 INCORRECT ENTERTAINMENT, OR TRASH FROM THE PAST:
A History of Political Incorrectness and Bad Taste in 20th Century American Popular Culture.
(Bear Manor Media, 2007)
"A detailed romp through all facets of politically incorrect twentieth-century American films, vaudeville, music, jokes, behaviors, etc....Books like Slide's Incorrect Entertainment are especially interesting because they provide a broader, more diverse view of our history than standard textbooks do....In Incorrect Entertainment, scholars can find a wealth of documented information about the seedier side of popular culture and its impact. The amount of information documented in this two-hundred page book is staggering....it documents material that is not to be found anywhere else."
– Journal of Popular Culture, vol. 41, no. 1 (2008)
"Cultural Historian Anthony Slide, who has been described by the Los Angeles Times as a one-man publishing phenomenon, strikes again with a book guaranteed to contain something offensive for everyone. Chapters on subjects as varied as Camp, Fascism in Hollywood, Hedda Hopper and the Porky's movies. Plus the latest topical jokes on Helen Keller, Eleanor Roosevelt and the Challenger disaster."
– publicity release.
(This volume may be ordered directly from the publisher at bearmanormedia.com or (800) 566-1251.)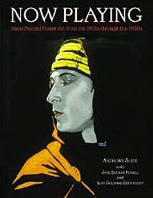 NOW PLAYING: HAND-PAINTED POSTER ART FROM THE 1910s THROUGH THE 1950s
(Academy Imprints/Angel City Press, 2007)
"No one could have planned this book overnight. It is the result of many years' research, travel, and acquisition; most of the original posters now reside at the Academy of Motion Picture Arts and Sciences. Anthony Slide has done a superior job of surveying this material and placing it into historical context. NOW PLAYING is a valuable piece of scholarship – and a beautiful book that belongs in every film library."
– Leonard Maltin, Leonard's Picks (July 2007).
"Movie lovers and movie buffs have a real treat awaiting….It's a museum-quality collection of poster art of historic films and their forever-unequaled stars from the 1910s through the 1950s. These are not photo reproductions but magnificent, hand-painted, one-of-a-kind theater posters by award-worthy artists….This book is written by Anthony Slide, who probably knows more about movies and their makers than anyone. He reveals the story of the posters' artistry and artists of these chef d'oeuvres."
– Army Archerd, Variety.com (June 18, 2007).
"Whether you are a film buff or aficionado of illustrative art NOW PLAYING will prove to be a treasure-trove of nostalgia and delight. Oversize with excellent reproductions, information about the actors and artists and their techniques, this pictorial chronicling of early filmdom is destined for many page-turnings."
– ART TIMES (July/August 2007).
"NOW PLAYING is a stunning-looking book….Even the posters that were of questionable artistic value had a story to tell – whether about the artist's interpretation of the movie he was depicting (sometimes it as clear he had not seen the movie and knew nothing about it) or about what was considered eye-catching in those days, depending on the location of the movie house. Throughout it all, Slide's text offers a historical-social context for the illustrations."
– Alternative Film Guide (July 5, 2007).
See also Q&A with Anthony Slide at this same website (August 10, 2007).
"The late Rochester artist Batiste Madalena is the star of NOW PLAYING: HAND-PAINTED POSTER ART FROM THE 1910s THROUGH THE 1950s, a finely crafted new coffee table book about beautiful art designed to sell movies in the Golden Age and before."
– Jack Garner, ROCHESTER DEMOCRAT AND CHRONICLE (July 20, 2007).
See also feature article in the LOS ANGELES TIMES (July 8, 2007) and syndicated Associated Press feature story (June 28, 2007), which appeared that day in the INTERNATIONAL HERALD TRIBUNE and elsewhere.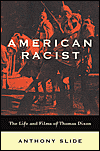 AMERICAN RACIST: THE LIFE AND FILMS OF THOMAS DIXON
(University Press of Kentucky, 2004)
"It's a fascinating, renegade life, and Slide tells us as much of it as we're likely to know."
– PALM BEACH POST (September 26, 2004).
"Slide writes in an easily readable style. Like me, he seems to have warmed to his subject, yet he doesn't overstress Dixon's virtues or downplay his shortcomings."
– Lawrence Toppman, THE CHARLOTTE OBSERVER (October 10, 2004).
"A veteran author, Slide has written numerous excellent books, and sponsored dozens as the longtime editor for The Scarecrow Press Filmmakers Series....He has an encyclopedic knowledge of film, and, when he doesn't know something, he scorches the earth with his research....Not everyone will share Slide's pity for Dixon, but this book will be welcomed by scholars of race and silent cinema and by anyone interested in the intersection of politics and film."
– Patrick McGilligan, CINEASTE (Spring 2005).
"Anthony Slide provides a thoroughly researched, insightful look at the film career of Thomas Dixon....in tracing Dixon's filmmaking career, Slide explores many little-known byways of American film history which are of interest in and of themselves. Slide has long had a reputation as one of the most productive and knowledgeable film historians outside of the academy. American Racist, with its authoritative research and incisive commentary, will only affirm that standing."
– Film Quarterly, fall 2008.

LOST GAY NOVELS: A REFERENCE GUIDE TO FIFTY WORKS FROM THE FIRST HALF OF THE TWENTIETH CENTURY
(Haworth Press, 2003)
"This fine reference book represents a commendable accomplishment in recovering from obscurity 50 English-language popular novels from the first half of the twentieth century that have gay characters or themes….his book makes a needed contribution to a niche of neglected literary history."
– G. Douglas Meyers, AMERICAN REFERENCE BOOKS ANNUAL 2004.
"Anthony Slide has rescued some fascinating, frequently alarming, and occasionally absurd works of fiction from obscurity. Brave or timid, candid or hypocritical, they reflect the fears, inhibitions, and prejudices of the time. With his comments on the writers and their critics, Slide sheds further light on growing up gay or homophobic in the first half of the twentieth century."
– Gavin Lambert.
"As an introduction to a selection of very interesting novels, this work is quite enjoyable."
– LIBRARY JOURNAL (April 15, 2003).

LOIS WEBER: THE DIRECTOR WHO LOST HER WAY IN HISTORY

(Greenwood Press, 1996)

"Slide is a researcher who sniffs out obscure sources like a truffle hound, and the book contains a detailed filmography, a thorough bibliography, and the sort of spade-work research that is difficult to accomplish for silent film stars, but for which Slide is justly well-known….Although Weber's story is ultimately a sad one, Slide makes her accomplishments live again, and he gives her the significance she deserves."

– Jeanine Basinger, HISTORICAL JOURNAL OF FILM, RADIO & TELEVISION (August 1997).

"Well-written, important volume."

-- AMERICAN CINEMATOGRAPHER (August 1997).

"A very professional study….Most useful to the researchers in film and in the history of ideas."

– CHOICE (February 1997).



GREAT RADIO PERSONALITIES IN HISTORIC PHOTOGRAPHS

(Dover, 1982)

"A lively checklist….Slide has thrown a new light on old favorites. It's a useful memorial."
– VARIETY (October 13, 1982).
"Chronicles that era nostalgically and informatively."
– THE NEW YORK TIMES (August 8, 1982).
"What a pleasant surprise to find a copy of GREAT RADIO PERSONALITIES nestling amongst today's bills in the mail! And what an outstanding job you've done, both in selection and accompanying text – this is truly a definitive and discerning contribution to radiology, and a delight for all who remember the days when the air brought more than smog."
– Robert Bloch.
"Wave after wave of nostalgia breaks over you as you turn the pages of Anthony Slide's GREAT RADIO PERSONALITIES. It is a gallery of the most luminous stars of the shortest Golden Age in history, most of them caught in the bloom of youth and achievement. Many, alas, are now gone, so their portraits become even more treasurable. The pictures, together with clear and concise biographical data, make the book not only a rich memento, but a valuable reference source in the bargain."
– Norman Corwin.